Massage therapist, Casey Jacks, is seeing his new client, Alexander Muller. Alexander strips down and hops on the table and instantly Casey has a hard time remaining professional. As he rubs Alexander's chiseled body, his towel falls off revealing Alexander's massive hard-on. Casey can't help but to start sucking the beautiful cock on the table in front of him.
Soon Casey is out of his undies bent over on the massage table as Alexander rims his ass. Neither guy can keep their mouths off each other as they take turns sucking each other off. Alexander takes the plunge and slips his extra-hard cock deep into Casey's hole.
Alexander doesn't hold back and pounds his masseur hard, getting faster and deeper with each pump from his ripped body. Casey wants to look Alexander in the eyes as he gets reamed and hops on to ride the throbbing stud.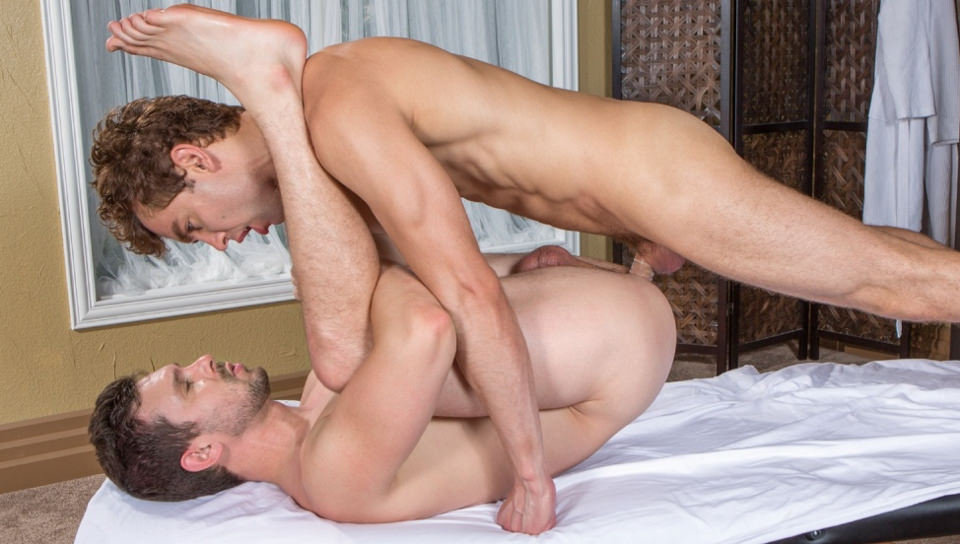 Alexander keeps up the rough pounding as he drives every inch of his throbbing cock into Casey, giving him all that he can handle. Alexander is almost ready to blow and turns Casey around one last time.
With Casey on his back and his legs in the air, he pounds away until he pulls out and squirts his load all over Casey's muscled-up body.
That's all Casey needs to see, and with Alexander still blasting all over him, Casey follows along and finishes up as the two blow their loads at the same time.
See Alexander Muller and Casey Jacks fully exposed here!
See Alexander Muller and Casey Jacks fully exposed here!