Built stud John Powers gyrates seductively on the bed, making sure to caress his heavy nuts with a bit of loving tenderness. He rises to hands and knees, swings his sack as an added come-on for ball worshipers everywhere, then gives some pelvic thrusts that pop his jewels forward and back like a hot naked gogo boy.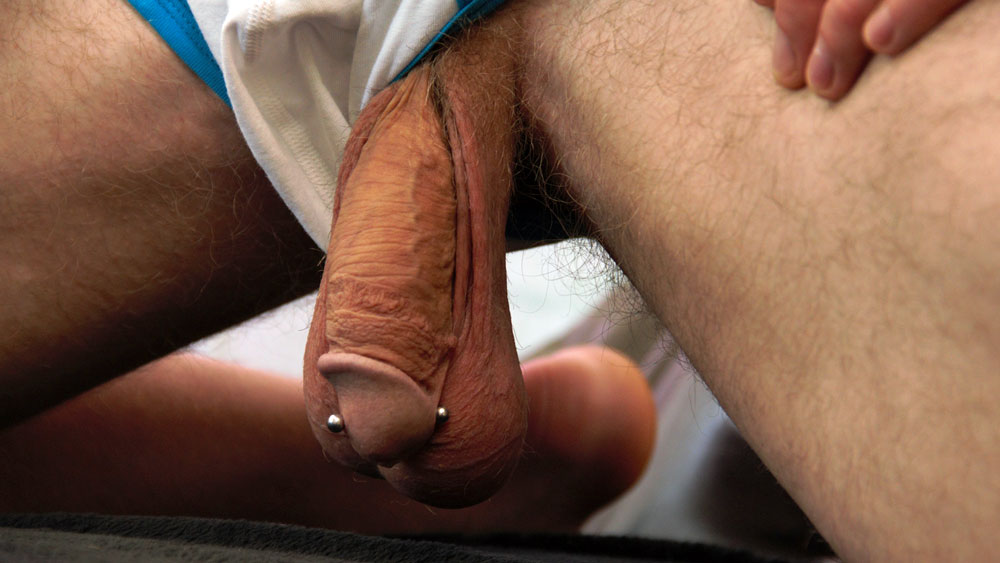 It's a hot day and his sack is dangling low and luscious. Slow motion makes all this jiggle even more enticing. Next shot has him in a slim tight black tank top and gym shorts that he shimmies out of. He squeezes his sack to push his huevos up to give them a hot sensuous rub. Licking his palm, he runs a juicy hand over his hot tight sperm banks.
See John Powers fully exposed here!
See John Powers fully exposed here!
Now those testes are locked and loaded and filled up with creamy man juice, and it's time to turn to his thick pierced cock. John alternates hands as he holds back his nuts with one and jacks with the other.
All that ball play makes his dick extra sensitive and ready, and in seconds it's jutting out stiff and straight. A minute of priming that pump is all it takes.
His loaded cream cannon fires off a bunch of hot shots that splash sticky white trails across the black bedspread.